Dare to Dream Sponsorship
For the third consecutive year, Friends Provident International, as a committed corporate citizen, sponsored the "Dare to Dream" program with the Hong Kong Student Aid Society (HKSAS). This year, we were also pleased to partner with Baptist Oi Kwan Social Services (BOKSS) to offer a program designed to teach underprivileged youth basic financial planning concepts to help them achieve their savings goals.
As in previous years, we hosted two financial planning seminars for participants in January, followed by a short listing of candidates in February. From March to May, the shortlisted participants were given the time to try to achieve their saving goals. We donated a matching sum to participants who successfully reached their own targets.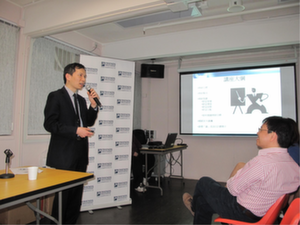 Dare To Dream Financial Planning Workshops
In Sept 2013, we organized the Dare to Dream prize presentation ceremony at our newly refurbished office. Our Hong Kong Sales Director, Jonathan Quach, presented certificates to participants who had achieved their saving targets. Sharing our expertise to educate underprivileged youth people about financial planning was a worthy charitable effort by Friends Provident International.
HKSAS Flag Day 2013
On 16 March, 10 FPI staff members volunteered to support the HKSAS Flag Day, to raise funds for its "Family Energy" programme in Tin Shui Wai. This programme supports early intervention and prevention of family violence in the district. The Flag Day raised over HK$1.4 million to strengthen the charity's good work.
Caring Company Recognition
In 2013, in recognition of our good corporate citizenship, Friends Provident International received the Caring Company logo for the fourth consecutive year. We will continue our good corporate citizenship efforts with vigour.
"Picnic in the Park" Charity Musical Concert
On 2 November, Friends Provident International again sponsored "Picnic in the Park", a live music and dance festival at Sienna Park in Discovery Bay on Lantau Island. More than 10,000 people and several Non Governmental Organizations (NGOs) joined the charity event. Proceeds were donated to charity organizations, such as Hong Kong Student Aid Society, Hong Chi Association and Kids4Kids. During this event, we delivered our retirement planning message to our target audiences through our game booth.